Book Review: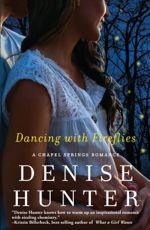 I just finished reading Dancing With Fireflies by Denise Hunter part of the Chapel Springs Romance series and I was just a bit frustrated with the book. Don't get me wrong – I enjoyed this book. Earlier, I had read Barefoot Summer a previous book in the series and I was familiar with the appealing McKinley family of Chapel Springs, Indiana. Here's the thing. I really liked the McKinley's.

The protagonist, second daughter Jade was delightful. Almost part of the family Daniel Dawson was a dream-come-true man. I loved reading how the family worked together, helped each other and remained very close. What's not to like, right?
The source of my frustration was in the relationship between Jade and Daniel. By page twelve it was readily apparent that these two belonged together and were in love with each other. The entire book was based on these two trusting each other, loving their time together with Daniel continually reaching out to help Jade. It was so apparent that they belonged together. Now I realize that I had insider information – privileged to be in the minds of both Jade and Daniel; but it seemed to me that if they would just tell each other how they felt this problem could be solved.
This book was definitely worth reading. You will wish you were a part of the McKinley family, attending the weekly family meal, having girl's nights in or out with the McKinley sisters and enjoying life in beautiful, close knit Chapel Springs. I suspect that like me, you will wish that Jade and Daniel could just cut to the chase and become a couple. You are sure to develop an affection for these two characters and will rejoice at the ending. The take-away for me is the importance of honest communication in relationships. So much pain could have been avoided by sharing feelings.
I received this book from the publisher in exchange for a review. All opinions expressed are my own.
About the Book:
Jade returns home to Chapel Springs after years of protecting her fragile heart. Then along comes Daniel, making her long to dance again.
Creative and complicated, Jade McKinley felt like a weed in a rose garden growing up in Chapel Springs. When she left, she thought she'd never look back. But now, pregnant, alone, and broke, she has no other choice but to return.
The mayor of Chapel Springs, Daniel Dawson, has been an honorary member of the McKinley family for years. While his own home life was almost non-existent, Daniel fit right into the boisterous McKinley family. He's loved Jade for years, but she always saw him as a big brother. Now that she's back, his feelings are stronger than ever.
As Jade attempts to settle in, nothing feels right. God seems far away, she's hiding secrets from her family, and she's strangely attracted to the man who's always called her "squirt." Finding her way home may prove more difficult than she imagined.
About the Author:
Denise Hunter is the internationally published bestselling author of more than 20 books, including "Barefoot Summer" and "The Convenient Groom". She has won The Holt Medallion Award, The Reader's Choice Award, The Foreword Book of the Year Award, and is a RITA finalist.

In 1996, inspired by the death of her grandfather, Denise began her first book, writing while her children napped. Two years later it was published, and she's been writing ever since. Her husband says he inspires all her romantic stories, but Denise insists a good imagination helps too!

When Denise isn't writing she's busy raising three heroes-in-the making with her husband.

You can learn more about Denise through her website www.DeniseHunterBooks.com or by visiting her FaceBook page at https://www.facebook.com/authordenisehunter